Why choose Diamond Grind?
If you are planning a remodelling of your home or office, and you have decided to change the flooring, then we have excellent news for you. From floor preparation to installation of different types of flooring, we offer a complete service that will satisfy even the most demanding clients.
There are many different reasons why people choose us instead of others, and dedication and professionalism are just some of them. If attention to detail, reliability and genuine care in delivering an outstanding result is important to you, then choosing Diamond Grind for your next flooring project is easy.
With approximately 20 years of experience in flooring and the support and guidance of world-class flooring experts and suppliers, Diamond Grind can deliver the flooring solution or finish you're looking for. Because of that, our services are the top choice of numerous residential and commercial clients, not only in Sydney but in all other interstate and regional destinations. You just have to get in touch with us and we will provide all the information you need, and visit you at the previously arranged time.
We are committed to Delivering High-Quality Service
A commitment to quality demands more than good intentions. It requires an investment in the latest machinery, tooling and training. Every member of our staff is well-versed and experienced, and we use materials from renowned brands. Choosing us for your next flooring project means that you will be able to choose between various options, and pick the style that fits you best.
Diamond Grind is highly trained in the preparation, resurfacing and polishing of concrete surfaces.
Besides that, the flooring options we provide are durable and can improve the aesthetics of any type of property. Whether you need our services for your office or new home, Diamond Grind has invested in the latest dustless diamond resurfacing and polishing equipment to ensure we deliver a first-class finish for our customers every time. Because of that, we have gained the trust of numerous clients during the past two decades.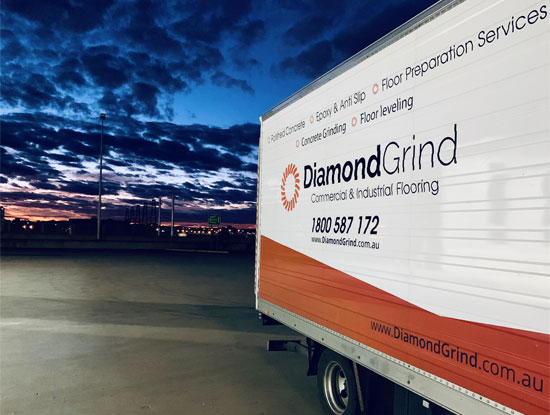 Attention to Details and Personalised Approach
Customer satisfaction is a primary focus for Diamond Grind. Every job, regardless of its size, is project managed from start to finish. Project updates are communicated regularly to ensure the customer is always informed, expectations are managed and scheduling of other trades or services around the project site are coordinated. While we're a small company, we take our commitment to service very seriously.
 You can be sure that we will work closely with you to help you understand every step of the preparation and installation of the floor. In case you have trouble deciding which option is the best for you, you can count on us to advise you and help you choose the best option within your budget. Everything we do is tailored to your needs, and we can't wait to show you how professional and dedicated we are.
You will have an experienced member of our staff at your service all the time, so don't hesitate to share with us your ideas and requests. We will give our best to fulfil every demand you have, and implement your suggestion in flooring solutions for the best customer experience. There is no need to waste your money on risky DIY solutions when you can have a team of professionals at your service. Let us make you one of the many loyal customers we have and contact us today.