diamondgrind-joint-repairs
Floor Joint Resealing
Floor joints act as a controlled crack in concrete slabs and are positioned to allow the floor to move. Shrinkage from drying and thermal changes over time are the main causes of floor joint movement. Diamond Grind uses sealants that are rigid enough to provide support and protection with the facing edges yet flexible enough to accommodate the opening of the joint and remain bonded to at least one face.
Due to movement, joints are often the primary source of maintenance and repair for industrial and warehouse floors with the facing edges of joints constantly vulnerable to damage from hard wheeled mobile plants and equipment. Joints with crumbling edges are commonplace in most industrial and warehouse floors and should be seen as an early indication of more serious long term damage. Because of that, it is important to contact us as soon as you suspect there is a problem with flooring in your commercial property to prevent bigger issues.
By resealing joints, Diamond Grind can reduce and even prevent further edge crumbling thereby eliminating the need for expensive remedial work in the future. Joint resealing is a relatively simple repair however the process works best when the edge damage is detected early. If more serious damage has already occurred, the need to reconstruct the joint may be required. (see opposite).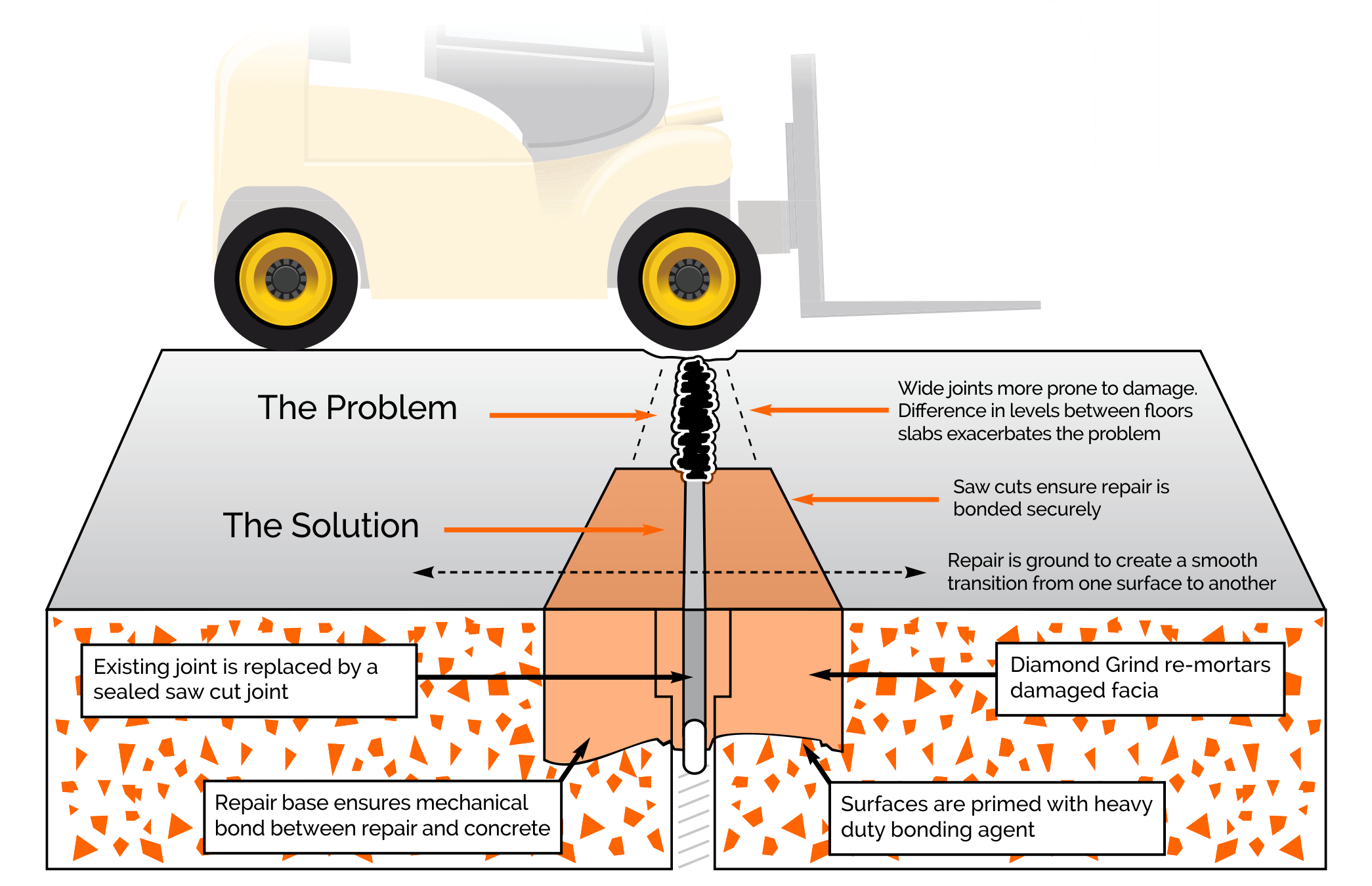 The Problem
Solid wheels and heavy loads transported by mobile plant cause major damage to the joint edge.
The Solution
New durable joint system provides a smooth surface for transition from one surface to another reducing maintenance costs.
Obligation FREE
Site Visit
Well maintained floor joints reduce the overall maintenance and servicing costs of commercial floors. To arrange for an obligation FREE site visit please call Diamond Grind on 1300 614 731.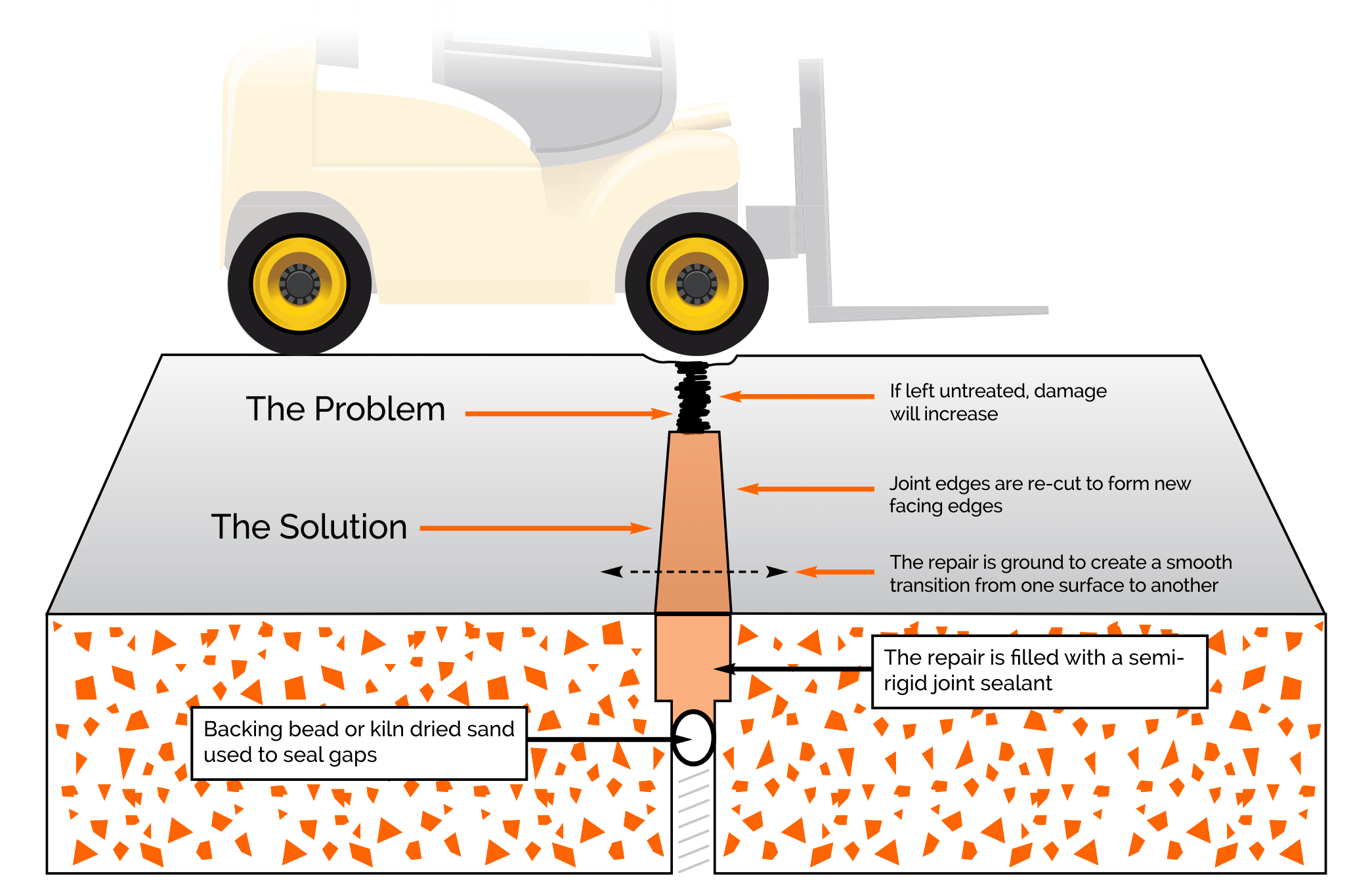 The Problem
Mobile plant traffic impacts remaining 'soft' edges and sealant causing further crumbling of facing edges.
The Solution
Damaged joint is reduced by introducing a semi- rigid joint sealant. Mobile plant now transition from surface to surface smoothly.
Floor Joint Repair
Early detection and repair of damaged floor joints have a significant impact on the overall maintenance cost of a commercial floor. Inspection of the joint sealant should be done regularly to ensure it is still performing adequately by protecting the joint edge. We offer regular checkups that will prevent costly and time-consuming repairs.
Once the damage has progressed past the scope of re-sealing the joint, it becomes necessary to reconstruct the facing edges. This should be done using a heavy-duty fast cure repair mortar designed for industrial floor use. While cement materials are less expensive, they are brittle and ultimately fail to become costlier in the long run due to the need for continual repair.
A wide joint increases the risk of edge deformation and fracture caused by the deflection of the joint sealant under load. Consequently, it is important to minimise the width of the joint opening at surface level. Diamond Grind's method of repair (shown below) allows for a 50mm wide 'traditional expansion joint' to be replaced with a neat 5mm wide, fully sealed saw cut. Each repair is ground flush with the adjacent floor surface to ensure that wheeled traffic has a smooth transition over the repaired joint.
Professional Staff for First-Class Service
We have carefully developed the repair process and guarantee professional and high-quality service. Our team of specialists is equipped with professional tools and efficient vacuum systems to ensure there will be no airborne dust during the repair. Besides that, joint areas that we fix will be ground smooth, so the traffic across the property will not be interrupted.
Our team has been providing this type of service for more than two decades, and we are capable of performing even complex repairs with minimum disruptions. You and your employees will be able to get back to your working routine quickly because we guarantee that all the jobs will be done swiftly and even before the deadline.
In case that you suspect there is a damaged joint in your industrial property, or you need us to conduct regular inspection, you can give us a call or fill out the online form on our website and our customer representatives will get back to you with all the information you need. Choose the best, and contact Diamond Grind experts today.