Basics of Cleaning Polished Concrete Floors
When it comes to flooring, one of the biggest concerns people have is how to maintain and clean it. Depending on the type of material you selected, you will need to follow instructions to keep it in good condition for as long as possible. But what about polished concrete flooring?
You have probably heard that this is one of the most resistant and durable flooring solutions, and yes, that is true. However, despite being long-lasting, you will still need to clean it properly to prevent damage and ensure it looks as good as new for years to come.
Many different cleaning products are available on the market, and it can be hard to decide which one will best suit your needs. Besides that, you will need to look carefully and choose the cleanser that also fits your flooring type. Luckily, polished concrete floors are chemical-resistant, so they are easier to maintain than some other types of materials.
 Daily cleaning is best
Despite being long-lasting and resistant, polished concrete floors require daily cleaning. It is not complicated at all, but you should mop it daily to remove dust and grime accumulation, which can erode the surface. Although many people do this using only water and mop, we suggest you consider adding some concentrated polished concrete cleaners for better results. This will help you suspend the dirt particles so they can be removed more easily.
 Another reason for using cleaners is the fact that if you use only water for a long time, it will still leave much dirt on the floor, so it can eventually discolour the surface.
If there are spills or stains, try to clean them as soon as possible to ensure that the polished concrete surface will not absorb them.
 When using a cleaner, make sure you leave enough time to start breaking down the grime such as grease and then suspend the particles. If you mop it right away, it will not have sufficient time to work. Remember that you should use a mop and bucket for smaller areas, but if you need to clean large  areas, you should consider hiring flooring professionals who will use automatic floor scrubbers with a non-abrasive pad.
 How do you remove stains from polished concrete floors?
Sometimes, stains can appear on your polished floor no matter how hard you try to keep everything clean and tidy. This is usually the case in a garage, where unsightly oil stains are common, and this is one of the hardest flecks to remove. If you plan to restore your polished concrete floor, you must remove this and all other smears because if you leave it that way, it can seep through the surface and ruin your refurbished flooring.
Whether it is only a small spill or your concrete floor is more contaminated, you will need to find an adequate cleaner to remove it successfully. Since it may take time to deal with it, you might consider calling Diamond Grind as we are flooring specialists who offer professional maintenance and cleaning services.
If you want to try to remove the stain by yourself, you can try using detergent and a sponge or even a degreaser – depending on the fleck type. Just make sure to use products that will not cause discolouration or damage.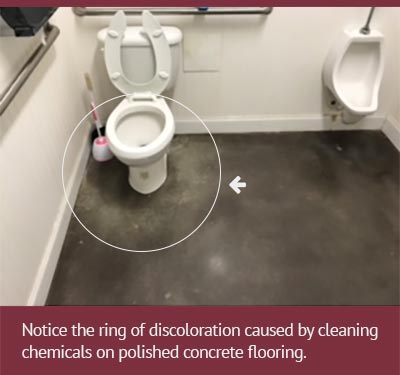 How to make your polished floors easier to maintain
When designing a polished concrete floor, you should choose patterns and colours that will not trap dirt. For example, saw-cut patterns create narrow grooves on the surface, and the dust will definitely collect there, so if you can, avoid that. This is especially important for high-traffic areas, where you can use floor mats to help reduce the amount of dirt that becomes trapped.
Another important thing is always to follow the regular maintenance schedule provided by certified flooring specialists because that is the only way to keep your decorative floor in top condition all the time.
We at Diamond Grind offer high-quality service, from flooring preparation to maintenance, so if a polished concrete floor is your choice, do not hesitate to turn to us for anything you need. Our team will find the first available term to schedule a consultation, and our flooring experts will provide professional advice and suggestions after site inspection. Our goal is to provide durable floors, and that is why so many customers from all over Sydney and NSW choose us. Let us show you what keeps us ahead of competitors, and we promise you won't regret it!