Case Study
Project: Life Health Foods Berkeley Vale (June 2021)
Contact: Mathew McInnes
Email: [email protected]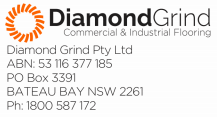 Diamond Grind was contacted by Mathew McInnes of Life Health Foods to undertake a project of 1100m2. The project was to be completed over a nine day period in an existing food facility located at Berkeley Vale on the Central Coast of NSW.
For the project to be a success, it was critical for it to be well managed as it had many moving parts and required cooperation with other onsite trades.
The previous epoxy flooring had only been installed for around seven years. It had several issues. The floor was slippery, worn out in many places and flaking off. As a result, the floor was unfit for purpose being both unsafe and unhygienic.
Diamond grind proposed a HACCP Certified heavy duty trowel applied Hychem Polyurethane cement in light grey with a Bauxite anti-slip media. A 6mm thickness was applied in production lines, corridors and coolrooms and a 9mm thickness in freezer and cool rooms below four degrees. The slip ratings varied between a P4(R11) and a P5 (R12) depending on the area.
The project involved the following items to ensure its success
Pre-meeting and consultation to specify flooring that would be durable and long lasting.
Meetings to discuss logistics and programming to ensure the project could be completed in the given time frame.
Efficient onsite loading of materials and completion of site inductions.
Commitment from the Diamond Grind team to work long days to ensure critical targets were met.
Accurate installation of materials.
Conclusion
Diamond Grind was successfully able to complete the preparation and installation of 1100m2 high quality Polyurethane cement flooring. Despite many challenging conditions that come with food and beverage facilities Diamond Grind excelled in their attitude and workmanship on this project. Key management have been highly impressed by the new flooring system that is now safe, hygienic and easy to clean.
Expression of Interest
Diamond Grind would greatly appreciate any opportunity to work with your company on future flooring projects. We specialise in Epoxy, Polyurethane Cement and MMA resin flooring. We look forward to speaking with you soon.
Note: Please feel free to contact Mathew McInnes at Life Health Foods to verify this case study